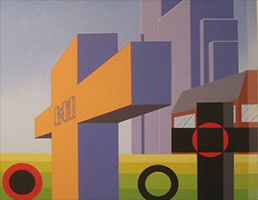 From Icon to Red Square:
Paintings by Adrian Sumner, inspired by the art of Russia
Grosvenor Museum, Chester 10 February – 7 May 2018

The Russian Avant-Garde created radical and prophetic art which dealt with aspects of the country's society at a time of revolutionary change in the early 20th century. This exhibition explores the ideas, innovations and styles of their ground-breaking work, as filtered through Adrian's unique way of contrasting and complimenting cultural references old and new. Looking at the Great War, the October Revolution and Suprematism, among other themes, this is an all-expenses-paid trip from Andrei Rublev to Franz Ferdinand via Adrian Sumner.